China's Agricultural Investment in Africa: "Land Grabs" or "Friendship Farms"?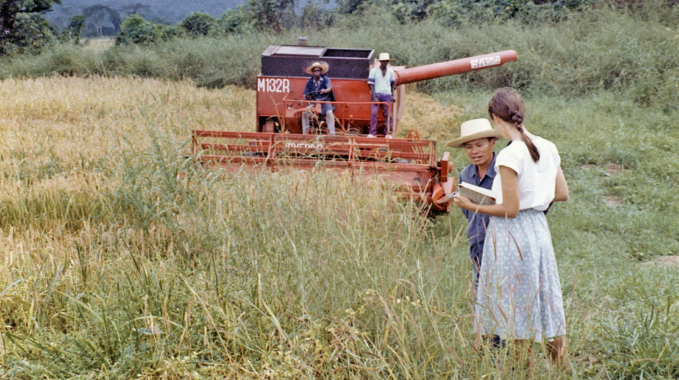 The Johns Hopkins University School of Advanced International Studies (SAIS) China Africa Research Initiative (CARI) held its inaugural public conference:  China's Agricultural Investment in Africa:  'Land Grabs' or 'Friendship Farms'? on May 16, 2014 and private (invitation only) researchers workshop on May 17, 2014, in Washington, DC at Johns Hopkins University's School of Advanced International Studies, Rome Auditorium, 1619 Massachusetts Ave, NW.
Conference Overview
Due to its size, and its rapidly growing middle class, China is likely to play an unprecedented role in the stability of global food prices and access to food supplies. Nowhere is this role likely to be more impactful than in Africa, a continent that suffers from a chronic food deficit. Over the past five years, reports of Chinese interest in large-scale land and agricultural investment in Africa have emerged regularly into the media. Today, many believe that the Chinese government is directing efforts to secure large tracts of land in Africa and elsewhere to ensure China's own food security. This SAIS-CARI conference investigates the realities of Chinese agricultural engagement in Africa, in comparative perspective. Scholars from around the world will present their fieldwork on Chinese policies toward outward agricultural investment, case studies of Chinese investment in Mozambique, Uganda, Zambia, Tanzania, Ghana, Angola, Mali, the DRC, Cameroon, Malawi, Zimbabwe and elsewhere, and close analysis of the economic cooperation model and the overlap between business and foreign aid. Researchers will complement this analysis with reports of Chinese investment in Latin American agriculture, and Gulf States investment in Africa. From the grassroots to the boardroom, the realities of Chinese investment in African agriculture are long overdue for an evidence-based analysis and appraisal. This is the aim of our conference.
Agenda
Friday, May 16
8:30 – 9:00    Sign-In and Coffee
9:00 – 9:10     Welcome: SAIS Dean Vali Nasr, Prof. Peter Lewis, African Studies
                          and Prof. M. David Lampton, China Studies
9:10 – 9:20     Introduction: Prof. Deborah Brautigam, IDEV and SAIS-CARI
9:20 – 10:50    China's Agricultural Investment: Mapping and Comparisons
Chair: Robert Thompson, SAIS Global Agriculture
Deborah Brautigam, Johns Hopkins University/SAIS
"China Going Global: Policies, Preferences, Problems"
Eckart Woertz, Barcelona Centre for International Affairs (CIDOB)
"Gulf Agro-investments in Africa: Motivations, Implementation Gaps, Politics: Comparison with China"
Margaret Myers, InterAmerican Dialogue
"China in Latin America: Comparison"
10:50 – 11:10      Coffee Break
11:10 – 12:40     Joint Ventures, Transitions and Borderlands
Chair:  Yoon Jung Park, CA/AC Network Coordinator
Solange Chatelard, Max Planck Institute/Sciences Po and Jessica Chu, SOAS,
"New Chinese Agricultural Investments in Zambia: A Grassroots Analysis"
Nama Ouattara, Université Paris Sud,
"Responsible Agricultural Investment: China's Investment in Sugar in Mali"
Xiuli Xu, China Agricultural University
"Business Borderlands: China's Overseas State-owned Agribusiness"
12:40 – 1:30        Lunch
1:30 – 3:00          Business Models and Dreams
Chair:  Lila Buckley, IIED
Josh Maiyo, VU University Amsterdam,
"China's Ag. Engagement in Uganda:  'Land Grabs' and 'Friendship' Projects"
Jiao Yang, University of Florida
"Chinese Agribusiness Entrepreneurship in Africa: A Case Study in Ghana"
Xiaochen Chen, China Business News Institute
"Adaptation to the Local Environment: the Story of a Sisal Farm in Tanzania"
Zhou Jinyan, Chinese Academy of Social Sciences
"Chinese Agricultural Investment in Angola"
3:00 – 3:30         Coffee Break
3:30 – 5:15          Problems and Challenges: Between Business and "Cooperation"
Chair: Peter Lewis 
Sérgio Chichava, Instituto de Estudos Socialis e Económicos (IESE)
"China's Agricultural Investment in Mozambique. The Case of Wanbao"
Louis Putzel, CIFOR
"Chinese Agricultural Investments in Africa: CSR, Scalar Efficiencies, and Local Folk"
Tang Xiaoyang, Tsinghua University
"Competition for Loyalty: Chinese Investments in Southern Africa's Cotton Sectors and their Impacts"
Henry Tugendhat, IDS Sussex and Future Agricultures,
"Chinese Training Courses for African Officials: a "Win-Win" Engagement?"
5:15 – 5:30                 Closing Remarks: Conference Organizers
The conference is free, and open to the public, although seats are limited. SAIS-CARI thanks co-sponsors: SAIS International Development Program (IDEV), China Studies, African Studies, and the SAIS International Agriculture Initiative. We especially thank the International Development Program and Smith Richardson Foundation for co-funding this conference.